China manufacturer industrial bread production line
Anhui Baisson Machinery is Professional China Industrial Bread Production Line Manufacturer, Supplier and Exporter, this machine is ideal for various kinds of bread forming and processing, and for burger bread, stuffed bread, layer bread, bread bun and bread roll making and processing for factory production.
Bread Samples made by our industrial bread production line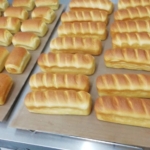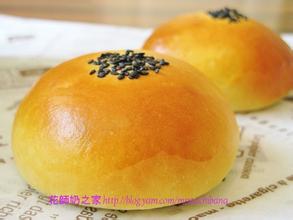 Bean Paste Bread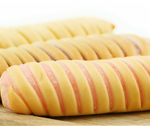 Jam Bread Roll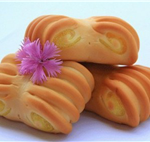 Butterfly Bread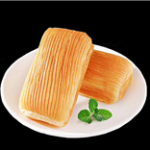 French Bread 2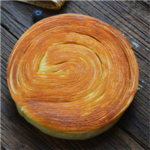 French Bread 3
Bread is a kind of food made from grains (usually wheat flour) and cooked by heating. With wheat flour as the main raw material, together with yeast, eggs, oil, sugar, salt and so on as auxiliary materials, to make dough by adding water, after the process of division, forming, fermentation, baking, cooling and other processes, finished bread is made.
Usually, when we mention bread, most of us think of European and American bread or Japanese style stuffed bread, sweet bread and so on. In fact, there are many special kinds of bread in the world. Besides rye flour and wheat flour, buckwheat flour, brown rice flour and corn flour are widely used in making bread in the world. Some bread is fermented by yeast and becomes more fluffy and soft during baking. Many bread is on the contrary, and it is not necessary to ferment. Although raw materials and manufacturing processes are not the same, they are all called bread.
Baisson Industrial Bread Production Line

Baisson Industrial Bread Production Line is ideal for filled bread, stuffed bread, bread bun, bread roll, toast bread, sandwich bread and layered bread production. By changing optional parts, it can make the bread products infinity.
Industrial automatic bread production line
This Bread Making machine applies widely in commercial bread production, food products include bread bun, stuffed bread, bread roll, jam bread, french bread, hamburger bread production, etc.
Anhui Baisson Food Machinery is a professional production factory working on producing various encrusting machine such as: automatic maamoul production line, small kubbieh machine, small kibbeh making machine, automatic kubba encrusting machine, automatic filled cake making machine, filled cookies machine, cup cake filling machine, Automatic Cake Making Machine, Malaysian automatic pineapple tart making machine.
Our main products are Mochi Ice Cream Making Machine, bread production line, filled cookies machine, maamoul making machine,
automatic
siomai making machine
, crepe pancake making machine, etc.
For more mechanical information of our food machine list, please check our products page at: Anhui Baisson Food Machinery .
By providing premium quality bread making machine and industrial bread production line, we dedicated to be your most trustable & reliable partner.