Automatic Encrusting Machine
Multifunctional Encrusting Machine
Automatic Encrusting Machine Description:
Automatic encrusting machine use Delta's human-computer interface,PLC,Semens optoelectronic switch,Taiwan driving motor,Japan complete sets of knives,all machines use the high quality stainless steel 304,make sure it works steady and reliable.
The Automatic Encrusting Machine can change different skin thickness, length, size of food by the machine.It can also change different molds for making different shaped food products.The encrusting machine can also make filling soft stuffed pastries such as kubba ( kibbeh ), coxinha, croquette, arancini, arepas, falafel, mooncake,maamoul, kahk cookie, pineapple cake, mochi, ice cream mochi, meat ball,filled cookies, double color cookies, strip cookies,ice box cookies, chocolate chip cookies, mosaic cookies, panda cookies, twist cookies, flatten filled cookies, shortbread butter cookies, designed cookies, fruit bar, fig bar, date roll, crackers, energy ball, filled date ball, sesame ball, tamarind ball, meat ball, fish ball, beef ball, and so on. And for different food, there will be different devices.
The auto encrusting machine can also make below food:pumpkin cakes,sweetheart cakes,soft stuffed cakes, wife cakes, meat pies, tambun-biscuits, piroshki, filled churros, rice croquettes, meat pia, nastar, filled quenelle, gulab jamun, rasgulla, tulumba, bunuelos, knodel, thai moji, kebab Balls, topfenknodel, germknödel, filled Potato ball, pyzy, tamales, meat with egg, beef roll, bite size, filled pretzels, concha bread, mini stollen, apple strudel, apple pie, dinner roll, filled Bagel, polvoron, marzipan, hamburger, chicken kiev, ang guh kueh, donuts, filled hamburg, pate, knish, scotch egg, pan fried beef bun, crystal dumpling, rice dumpling, stuffed buns, kuefteta, savory beans, gratin Pie, brownie with filling, amaretto, rumkugeln, rocmia, etc.
The fillings in the encrusting and forming machine could be jam, chocolate, cream, ice cream, bean paste, minced meat, paste mixed with small nuts (sesame, corn, peanut).

Automatic Encrusting Machine Features:
1)304 stainless steel ,consistent with the International food safety standards.
2)High speed. Up to 99pcs/min,1.5 times than the similar machine.
3)Multifunctional,available for making various offood ,including sticky products or thin skin juicy products .
4)The ratio of dough and product size can be adjustable.
5)Multipurpose encrusting machine has memory function,it could save 99 types production modes.
6)Two hoppers of Polymer composite plastics, it has the characters of light weight , non-stick ,easy to tear down &install ,easy to clean comparing with stainless steel , and more healthy.
7)It also can add a hopper, which can produce double filling maamoul/cookies, or double color with one filling cookies.
8)Machine with mixing structure better than normal machine. It can produce twist products. And makes the skin of the product is more smoother.
9)Products is stable,small error.
10)Easy to operate,PLC intelligent control system,colorful touch screen operating panel, Taiwan Delta inverter, make themachine operational performance more stabler.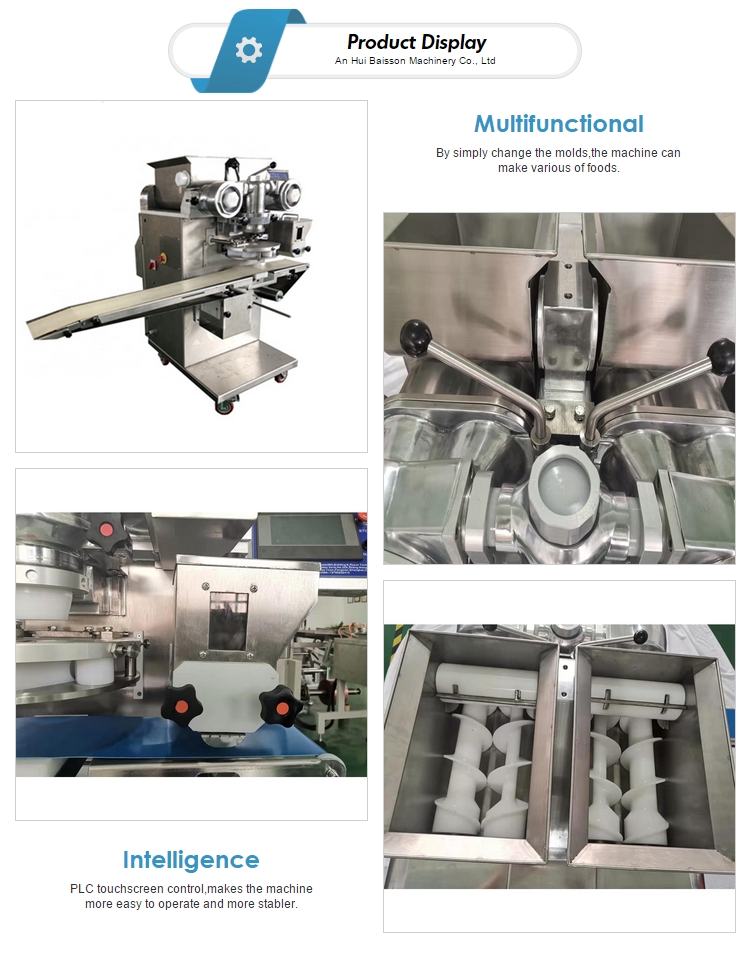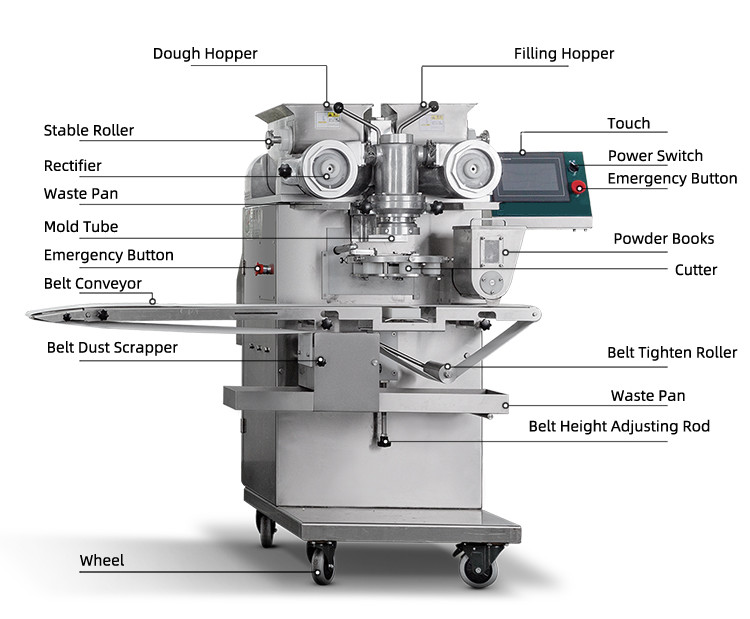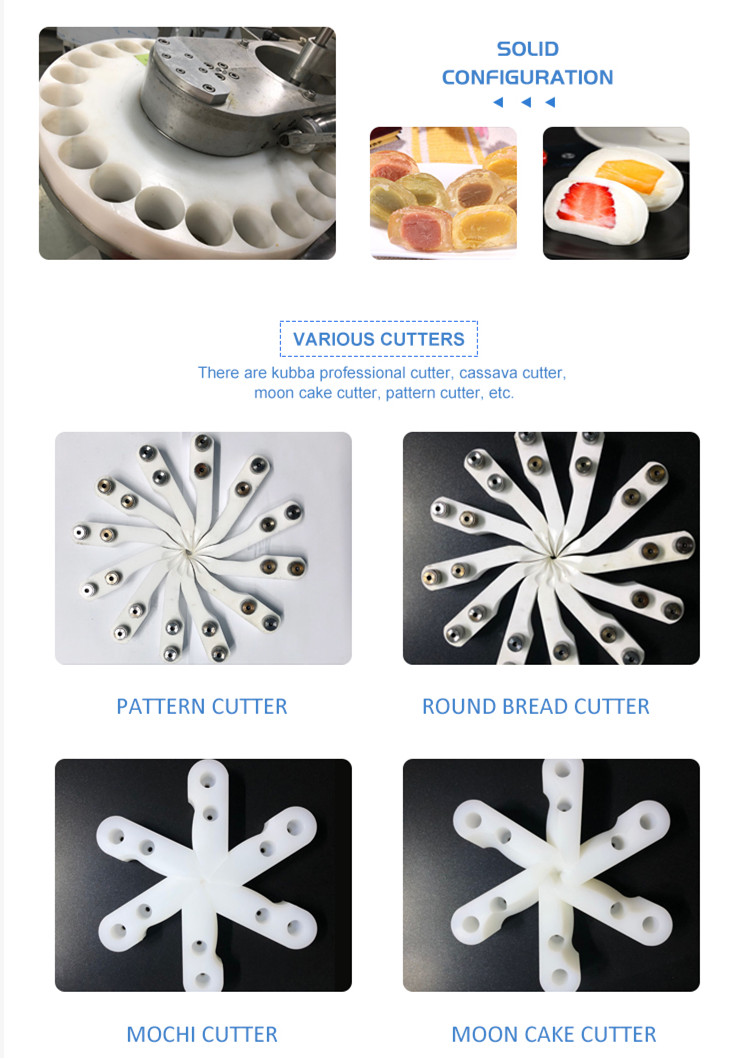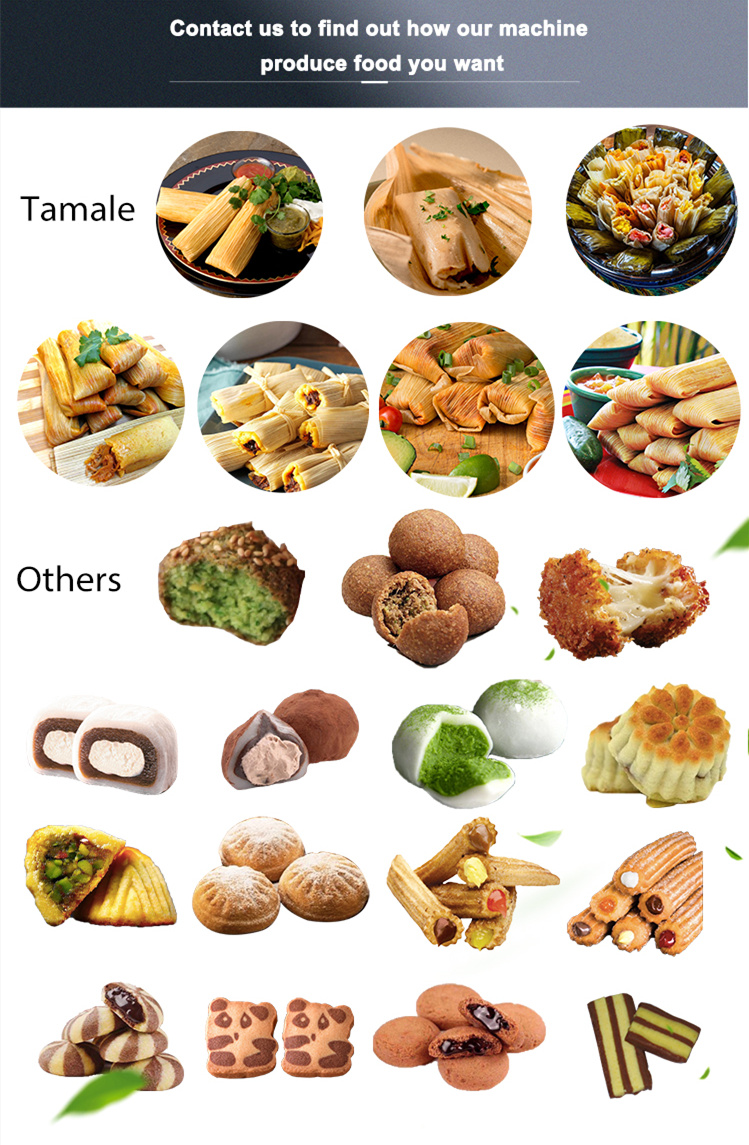 Automatic Encrusting Machine Packing
1.Outside package:Standard exporting wooden case
2.Inner package:Stretch film

After-sale Service
1.free training of machine installation,operation and maintenance will be provided by our engineer.
2.Some spare parts will be sent with the machine for free.It's available to buy the parts from us forever at low price.
3.We'll support customers after-sale forever by call,email and video etc.
4.If necessary,our engineer is available to go to the customer's factory for machine installation and adjustment.