Automatic Empanada Machine
Automatic empanada machine
Automatic empanada machine Description:
The automatic empanada machine - Multipurpose Dumpling Filling & Forming Machine - is capable of mass-producing empanada with handmade pleats,full filling,and an attractive shape.In addition to the shaping mechanism, the filling extruding system of the empanada making machine is also upgraded to smoothly and stably extrude filling mixtures with less oil and even larger dices, for example, plant-based filling with a higher proportion of stems or loose cooked minced meat. The commercial automatic empanada machine can make 4800 pieces empanada per hour. Also, it only requires just 1.5-square-meter installation area,it is suitable for small restaurants to large food factories.
Automatic Empanada MachineAdvantages:
1. Convenient operation and strong controllability.
The size of the product is uniform, the thickness of the dough, the amount of filling, and the produce speed can be adjusted.
2.Multifunctional.
By changing mold,the machine can produce dozens products,such as samosa,spring roll pastry,empanada,wonton,fried dumpling,round dumpling, square dumpling, etc. the stuffing can be meat filling, meat dishes mixed filling, vegetable stuffing.
3. According to the requirements of the pastry process, minimize the friction with the dough to ensure that the empanadas have a soft taste, good elasticity, beautiful appearance and three-dimensional sense, comparable to handmade dumplings.
4. Suitable for a variety of conditioning
The dumplings can be steamed, boiled and fried.They are also suitable for rapid freezing and storage.
5. Easy operate.
It can be operated freely in 5 minutes, one or two people with no experience can operate the machine.
6. The conveying surface and shaped parts are manufactured with special anti-adhesion technology materials, with low resistance, good forming, wear resistance and pressure resistance, easy disassembly, cleaning and durability.
7. High work efficiency.
Equivalent to 8 to 12 workers making empanadas by hand at the same time. Really low input and high efficiency, saving money and labor.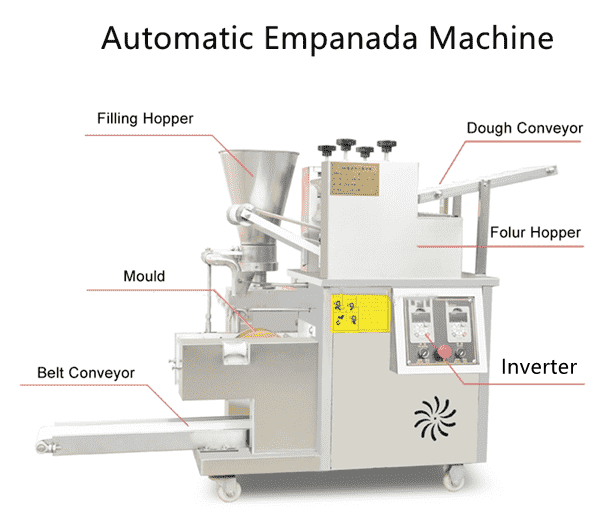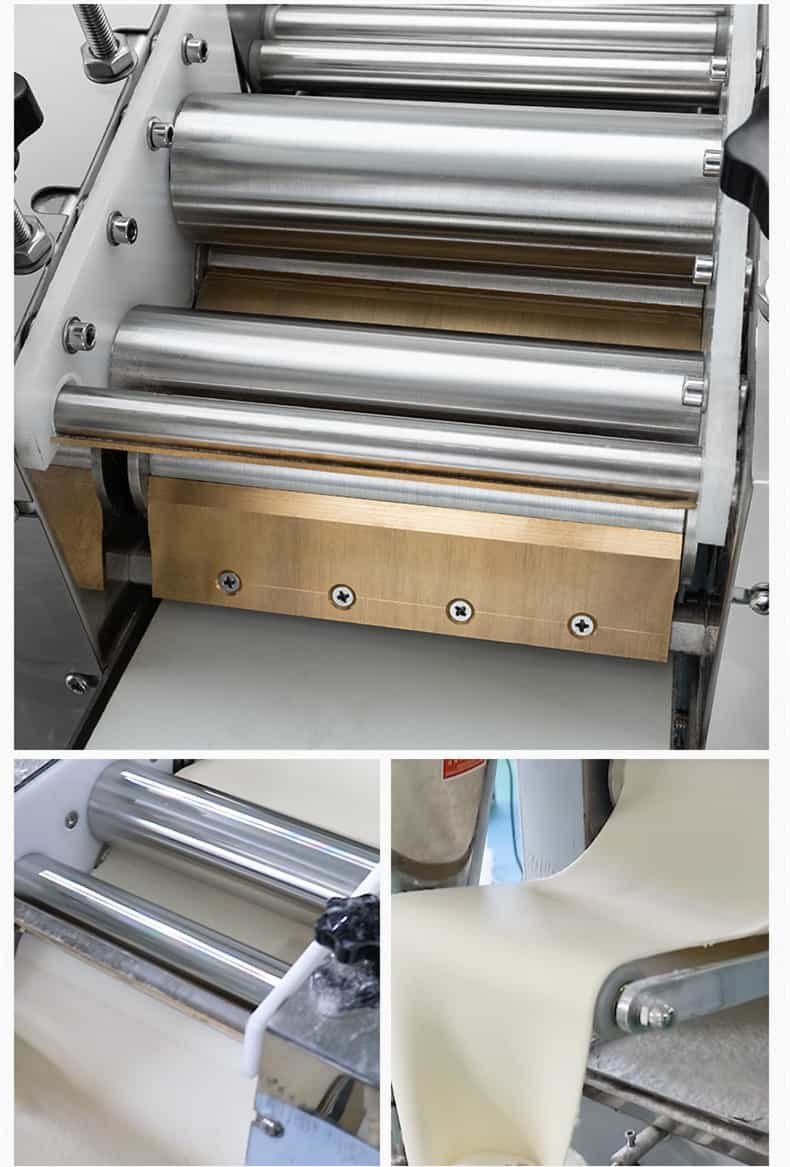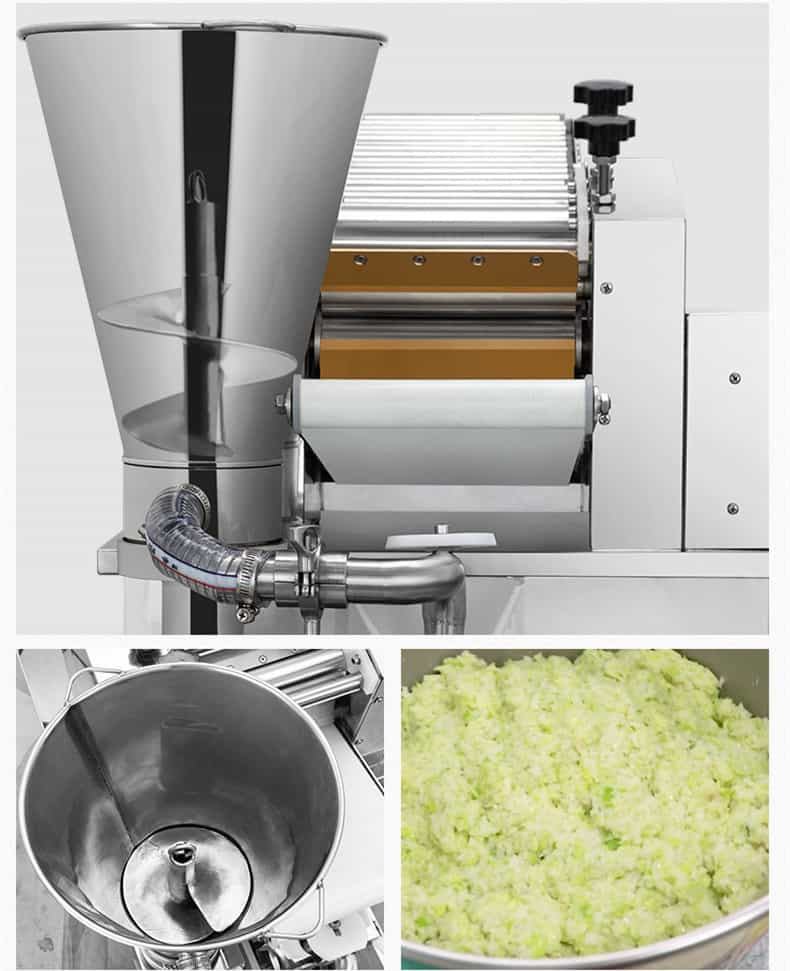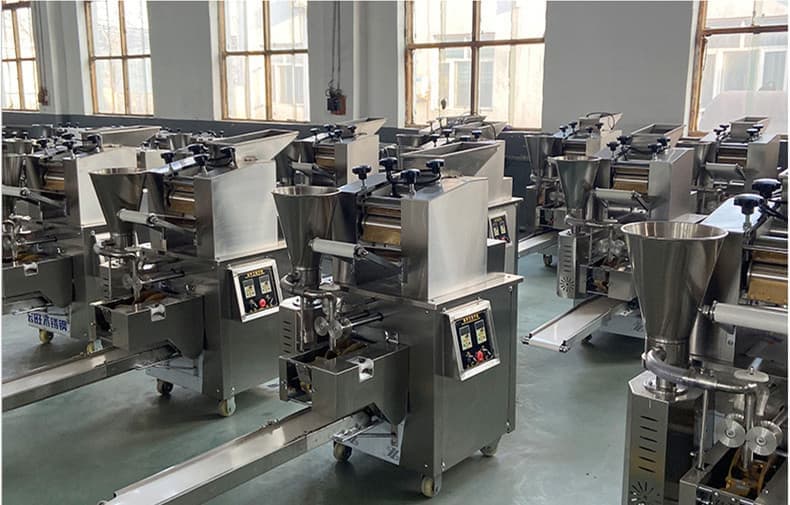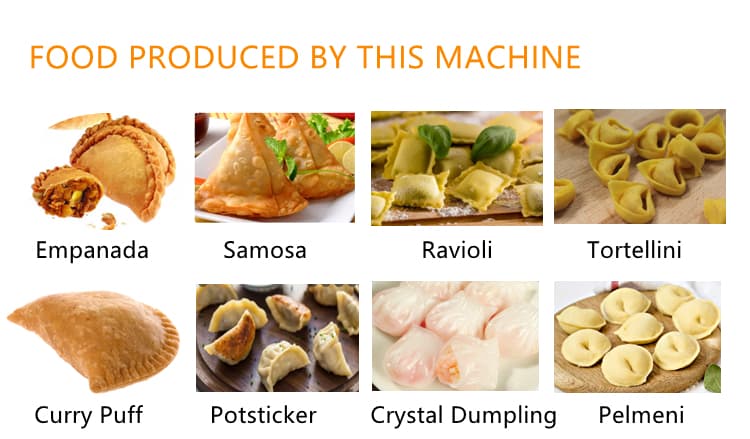 Food Produced By This Machine
Stick Gyoza, Apple Pie, Calzone, Cannelloni, Cappelletti, Chebureki, Crystal Dumpling, Curry Puff, Dumpling, Dim Sum, Empanada, Esfiha, Fried Leek Dumpling, Har Gow, Hot Pocket, Kreplach, Khinkali, Kompyang, Kopytka, Customized Pasta, Manty, Mandu, Pasta, Pelmeni, Pierogi, Pizza Roll, Potsticker, Ravioli, Samosa, Sambousek, Tortellini, Uszka
Packing
1.Standard exporting wooden case

After-sale Service
1.free training of machine installation,operation and maintenance will be provided by our engineer.
2.Some spare parts will be sent with the machine for free.It's available to buy the parts from us forever at low price.
3.We'll support customers after-sale forever by call,email and video etc.
4.If necessary,our engineer is available to go to the customer's factory for machine installation and adjustment.