Siomai making machine for Philippine Customer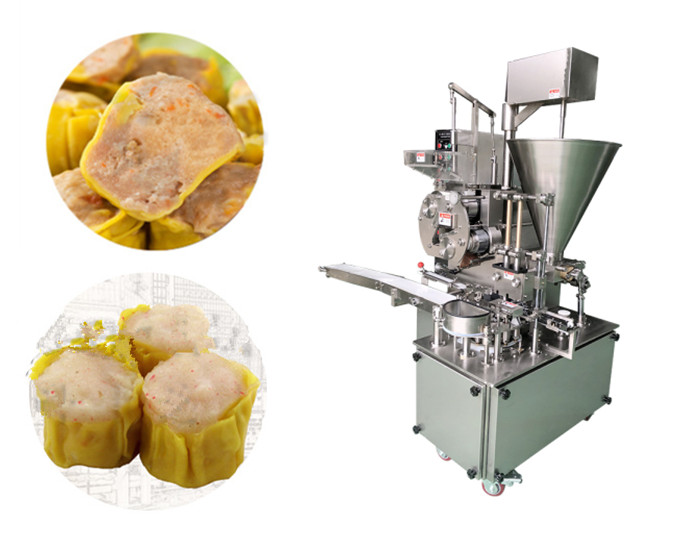 Siomai is a Philippine term for steamed Chinese dumplings, sometimes spelled as siomay. Siomai is a very popular snack in the Philippines and is popular with everyone. We have 5 models siomai making machine,which can meet different customers'requirements.

Comparing to other siomai making machines, Baisson series siomai making machines has a more obvious advantage , such as.

1.The characteristics of simple operation, stable performance, safety and health, cleaning and maintenance is convenient, etc.
2.philippines siomai making machine is a fully automatic siomai machine. just put the dough and stuffing respectively in the hopper. The machine is automatically sheet dough, pulled, cut, filled, molded and deliver formed siomai to the conveyor belt. All completed in one time. So the operation is simple.
3.304 Stainless steel making and food grade material, with the result that the quality is more guaranteed.


Quality of the philippines siomai making machine
As a siomai making machine for sale Philippines, the body is 304 stainless steel and food grade material. 304 stainless steel is one of the most widely used stainless steel. It has good corrosion resistance, heat resistance, low-temperature strength and mechanical property, good hot-working property such as stamping, bending and the like. The 304 stainless steel has excellent resistance to atmospheric environment and many corrosive media. So it is is suitable for food processing and food grade stainless steel approved by the state.

Using electromagnetic clutch device, speed regulation of press wheel is independent. Electromagnetic clutch can control mechanical starting, reverse, speed regulation and braking. The utility model has the advantages of simple structure, fast action, small control energy and convenient remote control. When used as braking control, it has the advantages of fast and stable braking. So the performance of the machine is quite stable.
Domestic famous motors and invertors, strong driving force, low fuel consumption, high economic benefits
German famous brand food grade conveyor belt, safe and durable.
Parameters of Philippines siomai making machine
Capacity of siomai making machine for sale Philippines is 5000-6000 pcs/h, weight 900kg, dimension 1550*1350*1850mm, power 3kw, voltage 220v/380v. For food factories, they are fully qualified for the task of product production. On the whole, because Automatic Philippines siomai making machine is a fully automatic double line siomai making machine, the production speed is fast and the degree of automation is high, so it will save a lot of cost for your future production.

Tailor-made
The region is different, the country is different, the demand is different. We will recommend appropriate machines based on the product requirements of each customer. When the customer purchases this siomai making machine for sale Philippines, we will carefully determine the details of its production, all the requirements for the machine, customized machine solutions for customers. Rack base, functional components, mold modification and customization can also meet the special requirements of each customer. Customer satisfaction is our main goal.

After-sale service
Generally speaking, We will provide one year warranty service, and provide Field installation, commissioning and training and other after-sales service. We will also deliver detailed instruction manual and operation video along with the machine, which will be of great help for assistance and reference of troubleshoot clearly. And we offer life-long instruction services of this machine, if you get questions or problems on this machine. We could communicate via video by Email or WhatsApp, or you send me photos/video of the problem part. We will have our technicians solve it for you in the prompt, you will find it is not difficult to deal with.

Conclusion
Go beyond the needs of customers, dedicated service, to provide customers with more, is our main purpose. Finally, In the rapid development of market economy today, "quality first", "quality for survival" is our truth. I'm sure this siomai making machine for sale Philippines will benefit you a lot for smooth commercial siomai production and making profit.